Centipedes (Class Chilopoda)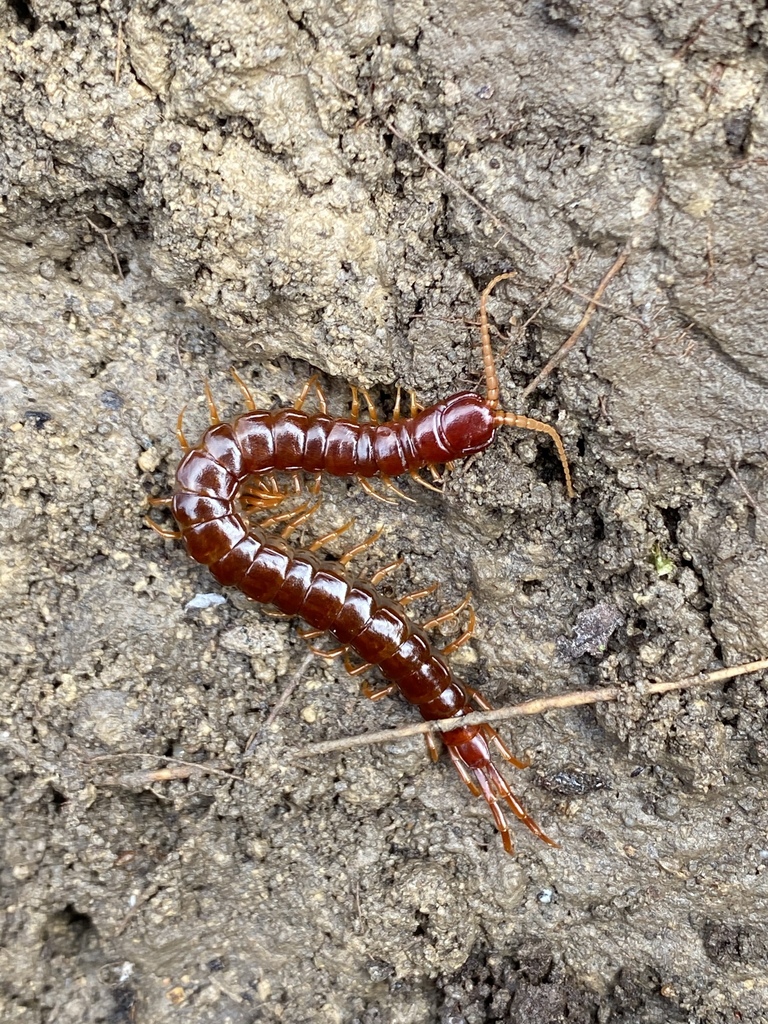 Identification:
There are throusands of species of centipedes with different colors, but they all have similar body structures. Centipedes have segmented flat bodies with antennae and paired legs. They are often a shiny because their exoskeletons. When fully grown, local centipedes can be an inch to several inches long. 
Sometimes centipedes are confused with millipedes, however millipedes are much slower than centipedes. Millpedes also have round tube-like bodies instead of being flat like centipeds. See the image below for more details on anatomical differences.
Do NOT touch centipedes! They can bite if provoked.
Habitat:
In the forest, centipedes can be found in sheltered damp conditions like under logs, rocks, and bark. They are nocturnal which means they are most active at night.
Overview:
Centipedes are common carnivores and feed on small insects and arthropods. They play a very important role in keeping their prey populations under control. Centipedes have venom that they inject into their prey throught their bite. They provide food for shrews, birds, toads, lizards, spiders, wasps, ground beetles, and small snakes.
Fun Fact:
Centipede means "100 feet" in Latin.
Sources:
https://www.insectidentification.org/centipedes.php
https://activepestcontrol.com/pestipedia/stinging-pests/bark-stone-centi...
http://www.biokids.umich.edu/critters/Chilopoda/
https://extension.umn.edu/insect-relatives/sowbugs-millipedes-and-centip...
https://www.ncbi.nlm.nih.gov/books/NBK542312/#:~:text=Centipede%20venom%....
Image Sources: 
https://inaturalist.ca/observations/41971579
https://www.healthline.com/health/millipede-bite#millipede-vs-centipede